What is Playwork?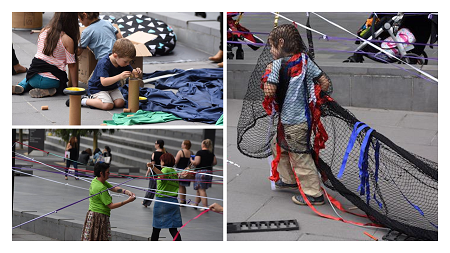 Playwork is a professional group of people dedicated to creating and maintaining spaces full of possibilities for children to play. The theory and practice of playwork recognises that children's play should be freely chosen, personally directed and intrinsically motivated.
Playwork is a very specific type of work distinctive from other ways of working with children in a number of ways, particularly in the very hands-off style of adult interaction with children that is at the core of playwork. We call this low-intervention, high-response.
Playwork defines play as being; "… what children and young people do when they follow their own ideas and interests, in their own way and for their own reasons." (The National Review of Children's Play 2004).
It takes place on adventure playgrounds, in street play projects, out of school care schemes and holiday playschemes, in play pods based in schools and local playgrounds, and on double-decker buses and mobile play van projects. There are some significant differences between each of these types of playwork but all operate through a shared philosophy and an agreed set of operational guidelines - the Playwork Principles.
- - - -
With its origins in the United Kingdom and Demark there are well established networks and routes to training and qualification in other countries around the world, particualrily Japan and Germany. There is also an emerging Playwork sector in the USA and Australia.
Playwork is a profession but this does not mean that those who are not qualified playworkers cannot adopt a 'playworking' style of work. With Malarkey Playwork we aim to provide both - training playworkers and provide the support for more playworking.

Learn more about leading Playwork around the world.