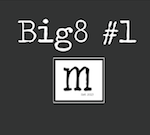 What is the Big8?
The Big8 series of events is a brand new Malarkey initiative.
To expand on the current support and professional development opportunities already offered by Malarkey to people working in the children and young peoples workforce, we will bring together four highly regarded speakers, all leaders in their professional fields, including our very own, internationally recognised Playworker and Children's Play Consultant Marc Armitage, in conference for one day only in each state and territory around Australia within a 12 month period … Hence why we're calling them Big8 events!
Continue reading ...