National Conference 2 - the return!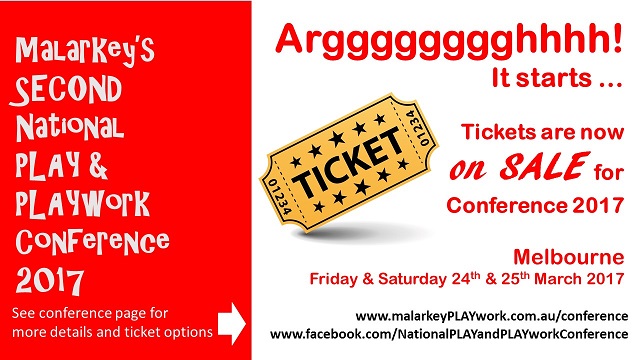 Tickets now on sale for Conference 2017
Yes, it's true! Tickets for our SECOND National PLAY and PLAYwork Conference are now on sale. Head over to the conference page to find more information and links to our Eventbrite booking page to select from a range of ticket options including once again the option to pay in instalments.
In 2007 we are planning to bring you another spectacular event to network, share and learn all about this thing called 'play' from people all over Australia and beyond. The theme for 2017 will be 'Putting the ING back into Play'.
We have three seriously top-notch, international keynote speakers to bring you (one New Zealander, an American and a home grown Aussie) one of whom has steered his school through the concerns of parents and educators alike to provide a place to play than embraces the idea of being risky and doing what comes naturally – one is a true legend in the world of play and playfulness for children and adults alike – and the third is a star of the child's Right to Play as enshrined in the United Nations Convention on the Rights of the Child. A truly spectacular cast of passionate play professionals.
Plus, dozens of breakout sessions on theory and practical topics, film shows, a sit-down conference dinner and birthday party, special events, visits, books, and a public Pop up Playground. Prepare to be alternately informed, challenged, amazed and tickled to death … sometimes all in the space of two minutes.
Now, enough … off to the Conference page with you.