National Conference 2 - the return!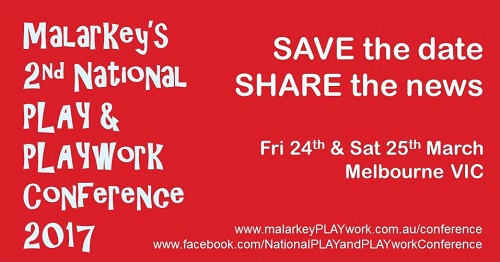 Yes, it's true - Malarkey PLAYwork announces the date for our
SECOND National PLAY and PLAYwork Conference
which will be Friday 24th and Saturday 25th March 2017.
to see how to go about submitting a paper
and come and be a part of this exciting
Malarkey PLAYwork event.
Putting the 'ing' back into PLAY
Following the, frankly, huge success of our first national conference we will be running this event again in Melbourne but after this our plan is to take the national conference interstate. More than 500 people attended our first event to hear three top notch keynote speakers and more than thirty choices of breakout presentations and workshops. Next years event will have even more choice available.
The theme for Conference 2 will be Putting the 'ing' back into PLAY.
Watch this space and our conference facebook page for news over the coming weeks
www.facebook.com/NationalPLAYandPLAYworkConference